【Lecture】Sustainability of Global Enterprise: Embrace the change to survive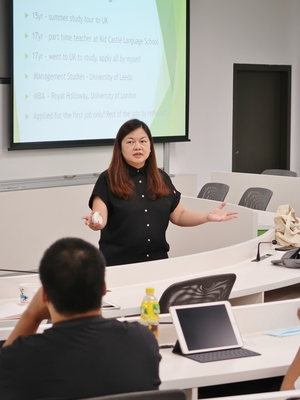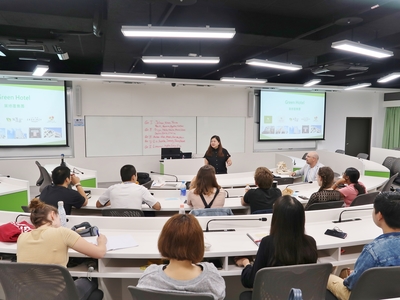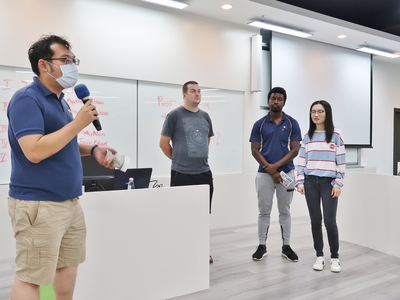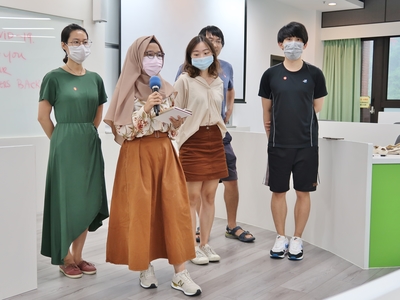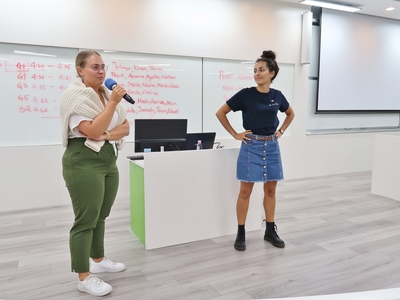 On 21st May, IBMBA course Sustainability of Global Enterprise instructor Dr. Ryan Brading invited Ms. Kerry Chang, General Manager of 'Green Hotel' in Taichung City, to share with us her experience in running an environmentally focused hotel.
This lecture was part of the courses Dr. Brading teaches, which are: 'Organizational Politics', 'Sustainability of Global Enterprise' and 'Business Ethics and Social Responsibility'.
Green Hotel is part of the Green Hotel Group, which consists of two hotels: one in Taichung's West District, and the other is next to the Taichung's Fengjia Night Market. It also has its coffee store – Cherry Espresso.
Ms. Chang completed a degree in Management Studies at University of Leeds in the United Kingdom, as well as an MBA at Royal Holloway, University of London. Ms. Chang introduced herself by emphasizing that at a very early age she went abroad for the first time. This part of her life was crucial as it helped Ms. Chang to learn how to be independent (Kerry was only 15 years old when she went for the first time to the UK). As Ms. Chang stated: "Being independent in an oriental society is not easy".
Kerry has a rich curriculum. Before working at Green Hotel, she worked as a HR supervisor and Area Manager at B&Q, Vice President of a trading company, and a Project Manager at BMW. She has applied for a job once. That was her first job! Kerry stressed that "you have to do your job right, and then, opportunities will come to you!".
Green Hotel was and still is a great project for Kerry. From scratch, she had to establish a hotel by herself. Her previous experiences helped her a lot. For example, her trading experience helped her in knowing how to import materials for the hotel.
Currently, there is a trend for designed/styled and backpacker hotels. These hotels usually are small or medium sized with less than 100 rooms. Good value and quality are great factors in this industry. Green Hotel belongs to the Top 10 Best Value Hotels in Taiwan!
"Love Earth" is the core value of Green Hotel. Nature, Warm Hospitality, Care for Locals and Creativity are very important to them. Green Hotel is No.1 Low Carbon Hotel in Taichung. Their Hotels use natural and LED lightning to save energy, they recycle raining water, no plastic water bottles, and AC is not used in common areas.
The hotel industry is very competitive. Kerry emphasized that it is vital to be positive and appreciate the strength of others in order to learn more. It is also very important to think in a different way and be creative. One example is her marketing strategy for the hotel. She didn't use social media only. Kerry has invited TV stations to make programs in the hotel. In this way, the hotel gained recognition without additional marketing budget.
"You have to find your specialties" "change is indefinite" "embrace the challenges"
The lecture ended by asking students in groups to think and present a marketing strategy that will encourage customers to stay at Green Hotel when the Coronavirus pandemic ends. We all learned a lot from Kerry's experience!
(Reported by Lucas Lanski)