【Activities】College of Management, NSYSU Established Hult Prize Club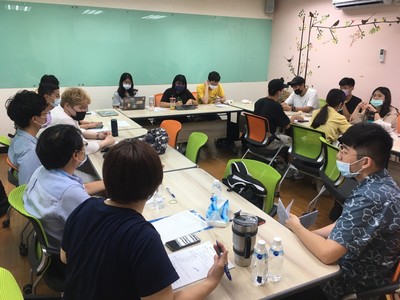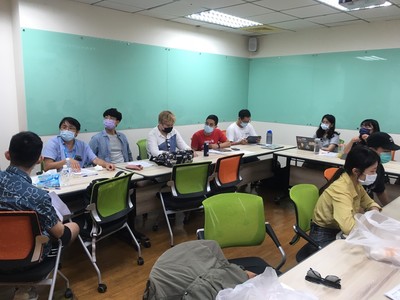 In April, 2021, a group of NSYSU MBA students participated in the Global Social Business Startup Competition – Hult Prize Regional Competition for the first time. The team started preparing for the contest since later 2020, and during the contest, team NSYSU competed against 20 nationalities over 14 domestic universities including NTU, THU, NCKU, NCCU. Team NSYSU managed to reach the final 6 from 30 attended teams for a total number of 120 students. Such an extraordinary outcome had motivated the planning team to form an official club, and arranged related industrial speeches on campus. The goal is to promote and encourage more students continuously pursuing further achievement in Hult Prize OnCampus Regional Competition.
On May 5th, 2021, NSYSU Hult Prize Club planning team held a founding ceremony; Director Chien-Yuan Sher, International Relations Office, Director Cindy Lin, Office of Career Development, Extracurricular Activities Division staff, Office of Student Affairs, and Hult Prize club team members, were invited to review the Article of Club in detail during the meeting. During the session, club members agreed to name the club as "Hult Prize Club" and categorized it under Academic Club. The team also took the opportunity to further consult with Student Affairs staff, and Student Association Secretary on notes and precautions as a new founded club.
Hult Prize Club is now officially announced, and with the fluent language capability and the type of events the club plans to hold, it can be foreseen that more foreign students will be attracted to participate in the club events. With the nature and characteristic Hult Prize Club associates, it is with high potential to become one of the few clubs that enable foreign students to take part in. Nevertheless, for the rights of the foreign club members, Prof. Sher suggested the team to establish the Article of Association with English version as well.
Currently, members of Hult Prize Club are in progress of preparing the annual event for this year; the event, at the club's primary stage, is expected to be mainly arranged with speeches by celebrities from the related social businesses. Later this year, the focus is be shifted to Hult Prize Campus Competition. The club members are all excited about the upcoming Hult Prize Club establishment, as this will empower them to put their dedicated plans into practice.
Hult Prize is the largest international case competition for students, and it is considered as the Nobel Prize for Business, which was founded in 2009; the targeted topics are mostly on major social crisis around the world. The main purpose of holding such global contest, is to encourage students to address these pressing social issues, and in hopes of proposing possible solution. The champions of Hult Prize international finals will be awarded with 1 million dollars of startup funding (equivalent to approximate 20 million TWD).
For more information about Hult Prize, please click "Here", or follow our Facebook
Click Num:
Add to Favorites
Share