Social Innovation and Entrepreneur Competition held on Dec. 11th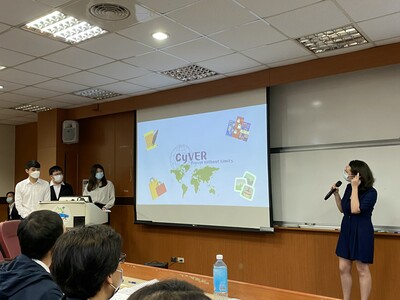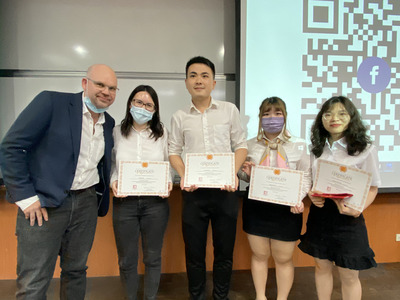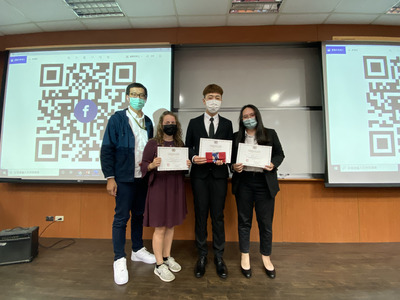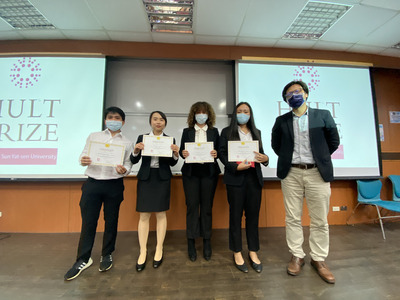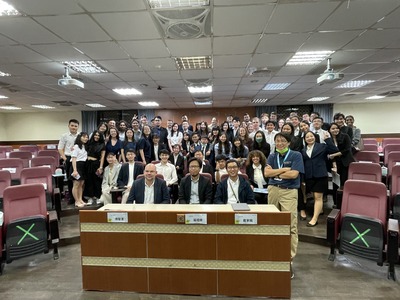 NSYSU Hult Prize club held the 2021 Social Innovation and Entrepreneur Competition, which is assisted and supervised by the College of Management, and the Office of Career Development. After 2 months of preparation, the competition was held on December 11th, 2021. The issue was "Getting The World Back To Work", to encourage students to come up with creative proposals, and create over 2,000 local jobs in the post-epidemic era.
A total of 16 teams, 63 people in total, participated in the case competition. The participants were mostly from the "Business Ethics and Social Responsibility" course, which is instructed by Professor Chien-Yuan Sher and Professor Ryan Brading. The team members were from various countries and different professional fields, but their common target was to come up with a social innovation idea. The champion of the case competition has to represent NSYSU at the national level in Taiwan. The NSYSU Hult Prize Club also invited the winner of the 2015 Hult Prize, Ms. Jessi Fu, Executive Director of HeartTalk Design, Jia-Ming, Tai, and professor from NSYSU Financial Management, Pei-Shih Weng to serve as the judges. They had the difficult task of selecting the winner, based on four standards: Completion, Innovation, Creation, and Social Impact, as well as giving students feedback and suggestions.
During the competition, each team introduced the team's proposal to the three judges, and the report and the Q&A sessions were conducted in English. The content of the team proposals covered a wide range of issues, including the resolution of leftover food problems, urban green parks, and the reduction of electronic waste. It fully demonstrates the spirit of the new generation to pay attention to social issues and try to come up with solutions. The review is also in the process of judging, and based on its own practical experience, put forward more practical methods and opinions for team proposals. After the competition, the contestants all stated that the comments of the judges benefited them a lot, and they also provided great help to students who are interested in making their ideas into real businesses.
The final top 3 winning teams of 2021 Social Innovation and Entrepreneur Competition were ERA, Wenergy, and PeeCa Chew. ERA set a core target of reducing E-waste pollution and built a new business model and designed a new recycling process. Wenergy focused on sustainable bioenergy and promotion of reusing the energy under different circumstances. PeeCa Chew created a new product "PeeCa NUTRI" to solve the food waste problem and help people with disabilities get back to work. Era received a reward of NT$5,000 and an admission ticket to the Taiwan finals.
We hope that Era will perform excellently at the Taiwan finals, so that their creativity can be seen by more people, in order to solve social issues. The second runner-up Wenergy received NT$3,000 in prize money, and the second runner-up PeeCa Chew won the prize money of NT$2,000. Executive Director of HeartTalk Design, Jia-Ming, Tai also actively expressed that if PeeCa Chew has actual product output in the future, it can help them put their products on the shelves and gave the participating teams great encouragement and help.
All the participating teams came up with proposals that are related to our daily life, concerned of social news and life issues, and shared the business models and their operating possibilities. We look forward to having these creative ideas put into action in the near future.
With NGGoodFood and Sunny Bubao's gracious contribution to NSYSU Hult Prize Club, and continuously developing social influence. The support from corporations is always one of the important factors that we are able to annually organize our events. Again, thanks to your involvement and advice which is indispensable to us. Without these, we cannot make our competition better.
About NGGoodFood:https://supr.link/tVIaX. NGGoodFood purchases vegetables which were rejected for their odd shapes to produce cookies whose ingredients contain over 50% of vegetables. Since November 2019, NGGoodFood has used approximately 120 kilograms of vegetables which had been rejected, and also reduced 120kg of greenhouse gases.
Sunny Bubao:https://supr.link/gqNFg .Due to Typhoon Morakot, many residents in the mountainous area of Kaohsiung were forced to relocate to Da'ai Village, Shanlin District. After they were resettled, the Tzu Chi Foundation introduced local companies to coach them in sewing techniques. In order to stabilize income, they established a cooperative society brand, named Sunny Bubao. Not only have they improved local employment opportunities, but the products have also been highly recognized for their high quality.
It is hoped that in the near future, social issues in Zhongshan can arouse students' heated discussions and attract students to propose solutions. The School of Management of National Sun Yat-sen University will also promote the goal of ethics, social responsibility, and sustainable education, and cultivate relevant talents.
(Written by Cho,Yi-Jen , proofread by College of Management)
Click Num:
Add to Favorites
Share