【Career】Advance to Thailand! Workshop on Understanding the Job Landscape in Thailand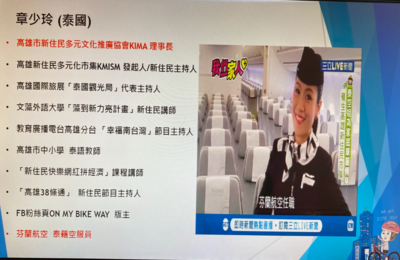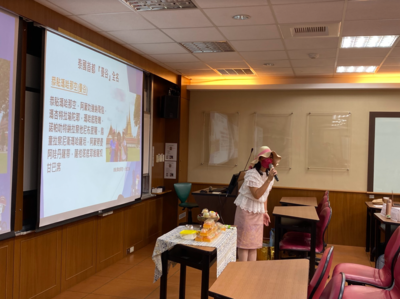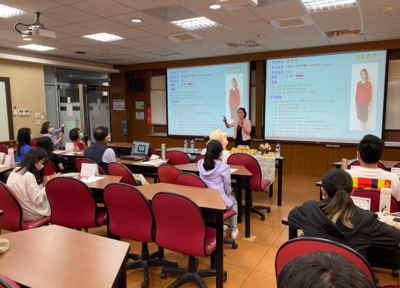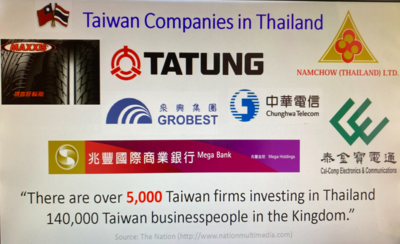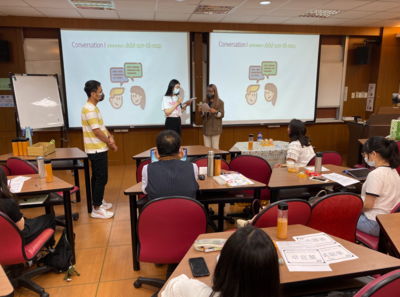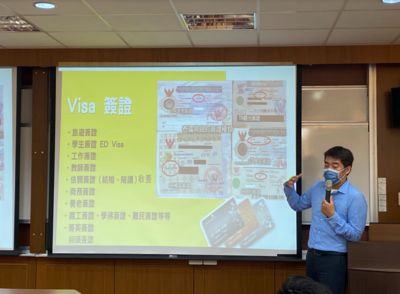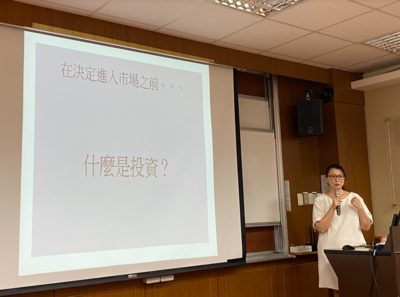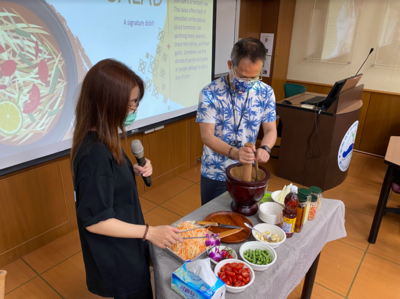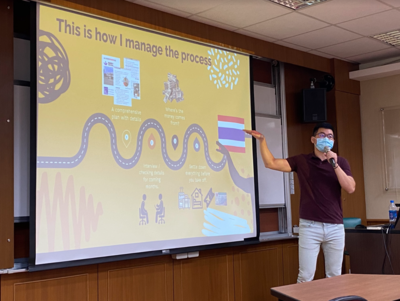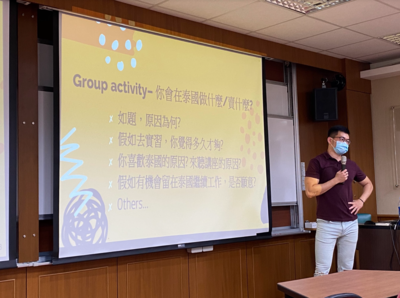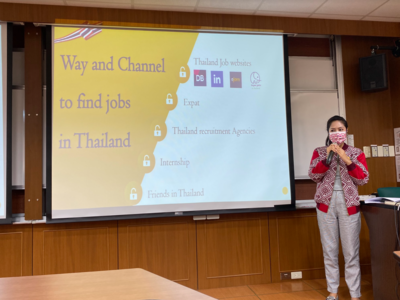 On 23 April and 24 April, the Office of Career Development organized a physical sharing on the theme of "Advance to Thailand! Workshop on Understanding the Job Landscape in Thailand". For this two-day workshop, we have invited various industry professionals that have previously or currently work in Thailand, to share more about their own experiences whilst in Thailand. We were also glad to have a few of our alumni joining us for the workshop, making it a fruitful event for the participants.
First up, we were graced by the chairwoman of the Kaohsiung Immigrants and Multicultural Advancement Association, Ms. Lumi Zhang, to share with the students on her life before and after being a naturalized citizen in Taiwan. Before her current job, she was an air stewardess from Finnair. When she chanced upon a song, "Cheers", from a Taiwanese band, Mayday, which talks about reminiscing one's life and reflecting upon what they have done, she felt that apart from her job, there is something that she could do to contribute back to the society. After some thinking, she decided that as a naturalized citizen, she could do her part by sharing with the public about the naturalized citizen's original country's culture.
On top of sharing her journey, Lumi also shared with the students some of Thailand's culture, such as the correct way to pay respect to the elders or seniors, the story behind the Songkran festival (Thailand's new year), the meaning of lighting a candle during festive celebrations (to ask for blessing), and also introducing Thailand's capital new name "Krung Thep Mahanakhon" (Angel City), previously known as Bangkok. This is the short form of "Krung Thep Mahanakhon Amon Rattanakosin Mahinthara Ayuthaya Mahadilok Phop Noppharat Ratchathani Burirom Udomratchaniwet Mahasathan Amon Piman Awatan Sathit Sakkathattiya Witsanukam Prasit".
Taking over the workshop, we have lecturer Warinthorn Pahakin, from the National Kaohsiung University, sharing with the students about Thailand's economic development. Thailand's GDP is mainly made up of the service industry (56%), manufacturing industry (35.5%), the agricultural industry (8.3%), and the other industries occupying the remaining parts. Given Thailand's popularity as one of the most visited countries in the world, it comes as no surprise for the service industry to makes up a huge percentage of their GDP.
For students who wish to pursue a career in Thailand, Warinthorn mentioned that there are opportunities for students to do so. There are around 5000 Taiwanese-owned companies in Thailand, and students can consider starting from there. Students can also utilize other job searching platforms like 1111 or 104, to find job opportunities in Thailand. Also to share, even the multinational companies (MNC) do post their available job positions in Thailand in 1111 and 104.
Regarding the question of whether students require the use of Thai to work in Thailand, the answer to this is relatively simple. If you wish to pursue a career in Thailand, you will need to know how to speak Thai as you will need to use it to communicate with your colleagues or even during your daily life.
The next sharing was led by one of our alumni, Jiraksak Rakkarn. His sharing was conducted in a relaxed and interesting manner, teaching the students how to speak some basic Thai. For example:
What is your name: kun cheu a rai krap/ka (guy/girl)
My name is: Pom/chan (male/female) cheu (name) krap/ka
Nice to meet you: yin dee tee daai ruu jak krap/ka
During the session, one of the most important sentences to learn, especially if you plan to visit Thailand is "lod noi na", which translates into "can you give me a discount, please".
The end of day 1's sharing was led by a current insurance agent, Chris Chen. It was a unique sharing that talks about his experience as a student learning Thai in Thailand, and discovering business opportunities while being there. Students intending to stay in Thailand for a prolonged period would often run into visa issues. There are multiple visas that one can apply for to stay in Thailand. Such information can be found on the Thailand embassy website. As Chris was able to speak some basic Thai, while studying in Thailand, he took on the role of a coordinator and translator, linking the companies in Thailand to clients in Taiwan, earning some allowance to cover his expense.
Day 2's sharing started with the owner of How Ly Sung, Ms. Kelly Lin, sharing about how she manages her family-owned business in Thailand. Before she took over her family business, Kelly worked in various MNCs. However, as her parents are due for retirement, she decided that it would be more appropriate for her to take over the business to allow her parents to retire officially and enjoy life.
When she first took over the business, due to the difference in working culture, it took her quite some time to get used to the new environment. For example, there is a famous saying in Thailand called "sabai sabai", which translate to living comfortably. As the Thai people place a huge emphasis on enjoying life, when the need arises, they will take a step back, especially when faced with immersing stress from work. As such, business owners need to do some manpower planning in advance to avoid manpower shortage issues.
The next sharing led by Ms. Chatchaporn Thanuchaiyasak, could be described as the most appetizing sharing for the entire 2-day workshop. As a student at Wen Zhao university, she too manages a food and beverage pushcart. On top of introducing the various famous Thailand cuisines, such as tum yum kung, basil pork, and Thai ice milk tea, she also taught the students how to make the sum tum (papaya salad). Needless to say, it was a sourish and spicy dish that most Thailand dishes are well known for.
After enjoying a sumptuous lunch, another of our alumni, Johnny Chen, Senior PM in HP, shared with the students his journey to attaining an internship in Thailand while studying at NSYSU. Johnny found this internship opportunity through NSYSU's available resources for the students. He then linked up with the manager of Whetron, which later introduced him to the internship in Whetron Thailand. Johnny strongly advised students to make good use of the resources that NSYSU provides for the students. Those resources can come in the form of exchange scholarships, subsidies, internship and job opportunities, beneficial career talks, etc. All these resources can help to reduce the students' burden, and even increase your chances of landing a great job.
So how can one get an internship in Thailand? Apart from knowing how to communicate in Thai, students should also plan their accommodation, visa, daily expenses, etc. So what about the work culture difference between Thailand and Taiwan? Apart from "sabai sabai", the Thai people care a great deal about maintaining good relationships. As such, it is important to know how to speak respectfully when talking to seniors and elders.
The last sharing of the two-day workshop was conducted by the Deputy Director of Thailand Trade and Economic Office, Taipei (Labor Division, Kaohsiung Branch), Ms. Chanokpornanan Graitep. Her sharing focuses more on the work opportunities in Thailand. Starting the sharing with some statistics on the number of Taiwanese working in Thailand, the industry they work in, and the talents that Thailand is currently looking for, she also shared about the available platforms that students can utilize to land a job in Thailand. Apart from LinkedIn, students can also visit Thailand's job searching platform, "JobsDB", and recruitment agencies, to look out for opportunities.
We would also like to take his opportunity to thank all our guest speakers for their sharing with the students at NSYSU.
(Written by Teo YongFeng, GHRM MBA)