【Career】BOSCH&GOGORO-Career Online Networking(6/12)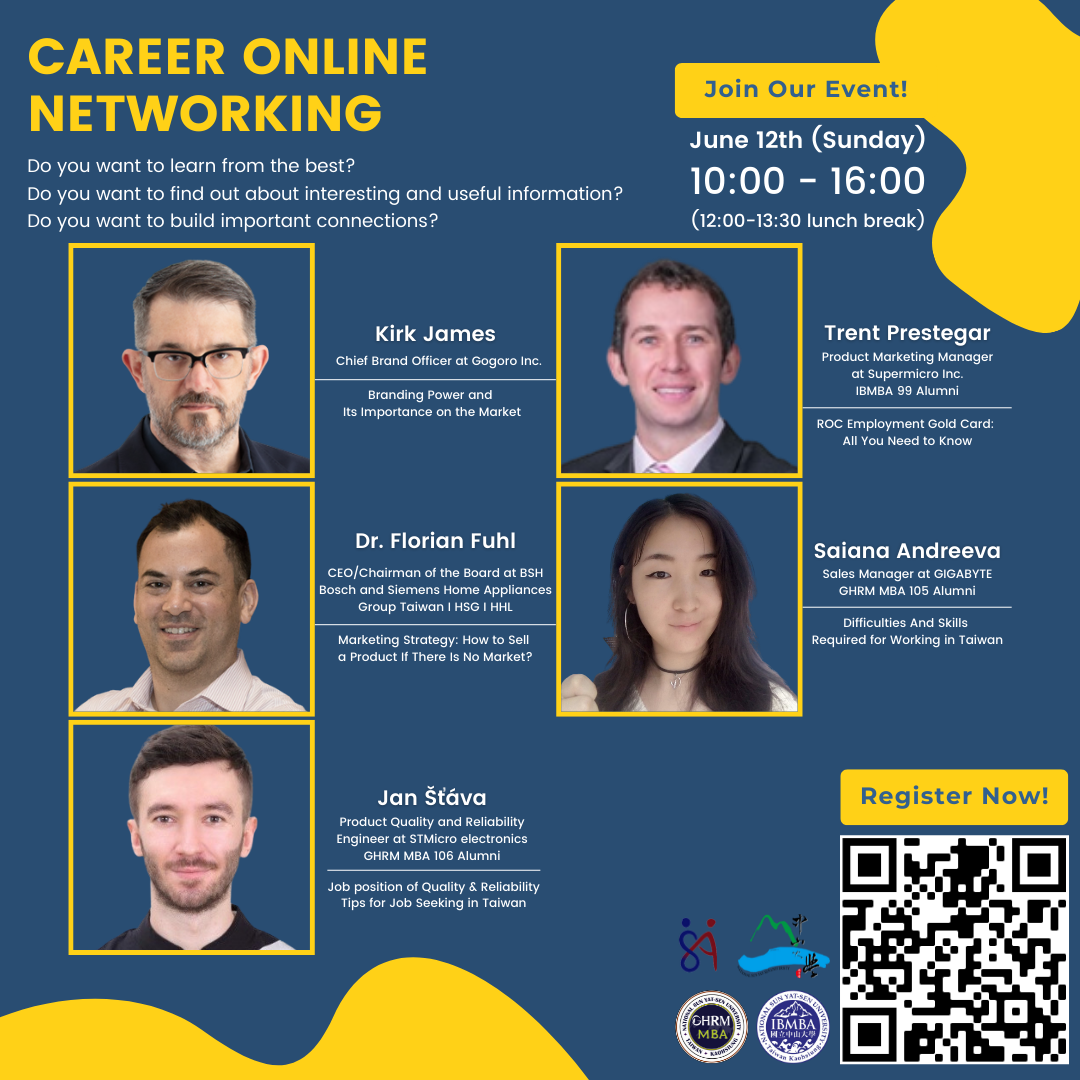 The International Programs Student Association would like to proudly invite you to a CAREER NETWORKING EVENT on Sunday, June 12th, with very precious guests (see the poster)!
The format will be a talk show hosted by SA members, talking with each guest about a specific topic. Of course, you will also have a chance to ask questions that interest you. Please check out the topics covered:
- Kirk James (Chief Brand Officer at Gogoro Inc.) - Branding Power and Its Importance on the Market
- Dr. Florian Fuhl (CEO/Chairman of the Board at BSDH Bosch and Siemens Home Appliances Group in Taiwan) - Marketing Strategy: How to Sell a Product If There Is No Market?
- Trent Prestegar (Product Marketing Manager at Supermicro Inc. and IBMBA 99 Alumni) - ROC Employment Gold Card: All You Need to Know
- Saiana Andreeva (Sales Manager at GIGABYTE and GHRM MBA 105 Alumni) - Difficulties And Skills Required for Working in Taiwan
- Jan Šťáva (Product Quality and Reliability Engineer at STMicro electronics and GHRM MBA 106 Alumni) - Job position of Quality & Reliability, Tips for Job Seeking in Taiwan
If you are interested in this event, please register via Google form here: https://forms.gle/QFcZRD1zHeeU3a8o8 or scan the QR code on the poster.
Career Online Networking
Date: 6/12 (Sunday)
Time: 10:00-16:00
(noon break 12:00-13:30)
Who can join: ALL NSYSU students (exchange students are welcome, too)
This event will be a fantastic opportunity to get valuable information, ask the best of the best, and get a valuable connection for life! We are looking forward to seeing you all there!
**SA reserves the right to modify or cancel the event **
**The meeting link will be sent to you one week prior to the event **
Click Num:
Add to Favorites
Share