[College Honors] IBMBA is Ranked No. 1 in Taiwan and Ranked 75th worldwide by Financial Times Masters in Management 2023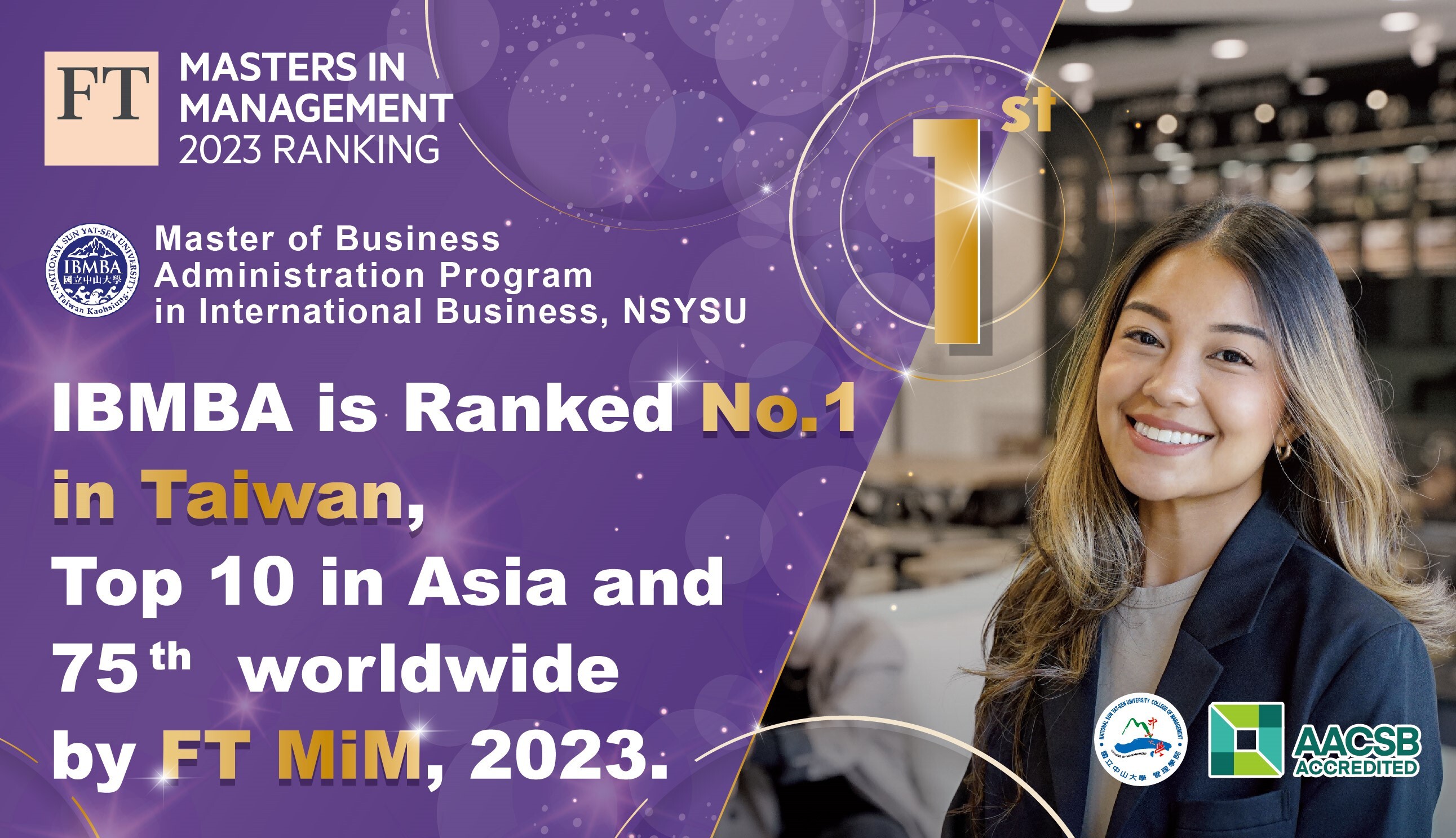 NSYSU's IBMBA is the only master program in Taiwan listed in the MiM ranking of the UK's Financial Times.
The IBMBA program of College of Management, National Sun Yat-sen University is ranked number one in Taiwan on a prestigious global masters ranking list! The Financial Times unveiled the 2023 Masters in Management Ranking (MiM) 2023 on their official website on September 11th. The ranking includes a total of 100 universities worldwide. NSYSU's Master of Business Administration Program in International Business (IBMBA) has participated in this ranking for the fourth time. This year, it ranked 75th globally, making it the sole Taiwanese institution on the list. Furthermore, for the fourth consecutive year, the program was ranked first among independent (non-joint) master programs in Taiwan.
NSYSU's College of Management has earned numerous prestigious professional business awards and certifications internationally. It has been on Eduniversal's 1000 Best Business Schools Ranking for many years. Since 2019, it has consistently been awarded 4 Palmes of Excellence and ranked third in Taiwan. In addition, since 2005, the College has been accredited by AACSB (Association to Advance Collegiate Schools of Business) four times, and it has been recognized as one of the top 5%of business schools in the world.
Dr. Shu-Chuan Jennifer Yeh, Dean of NSYSU's College of Management, expressed that the College is committed to actively aligning itself with international standards and its goal to establish itself as a leading global business school. The inclusion of the College in international rankings once again signifies a significant acknowledgement of its international effort.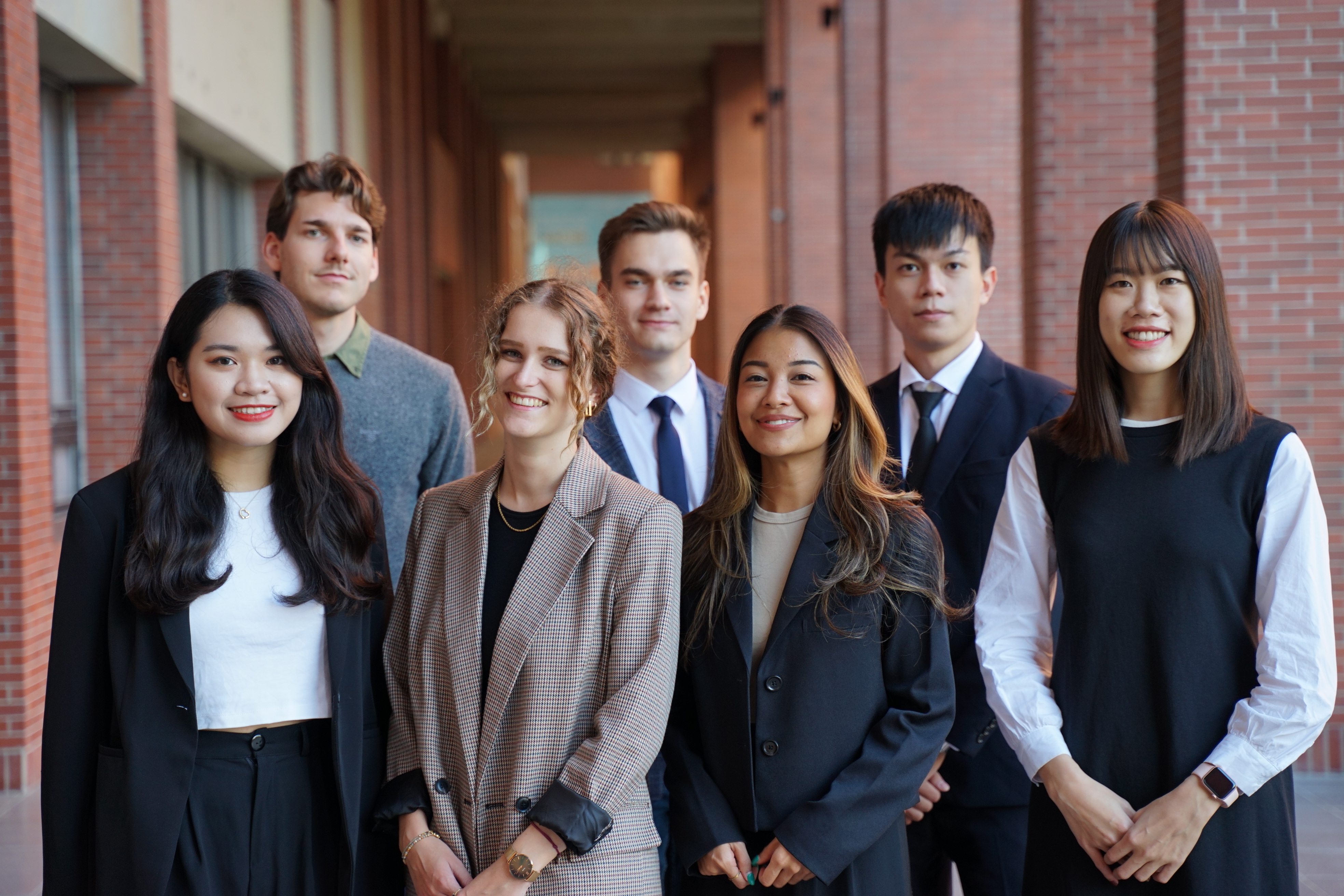 In 2005, NSYSU's IBMBA program became the first all-English master's degree to be offered in the southern region of Taiwan.
Offering education in English is a prominent feature of the NSYSU's College of Management. Currently, the college provides several programs taught entirely in English, including the Master of Business Administration Program in International Business (IBMBA), the Global Human Resource Management English MBA Program (GHRM MBA), and, a new addition in 2022 in response to the 2030 Bilingual National Plan, the International Business Bachelor Program (IBBA).
In 2005, the College launched its IBMBA program, becoming the first all-English master's degree offered in southern Taiwan. According to the International Program Director, Dr. Chieh Lee, the faculty and students of the master's program come from diverse international backgrounds. Currently, the IBMBA program has 75 local students and 46 international students, for a total of 121 master's students. The diversity not only allows international students to gain a better understanding of Taiwanese culture but also provides local students the opportunity to acclimate to a multilingual and multicultural learning and working environment while studying with international peers. In addition, NSYSU's College of Management offers numerous international study and internship opportunities. Companies highly value employees with international study experiences and are more likely to select them for prestigious overseas job assignments, which leads to better salary and promotion prospects.

NSYSU's IBMBA faculty and students come from all over the world and enjoy abundant cross-cultural resources and a rich learning environment.
NSYSU's IBMBA Alumni Three Years After Graduation - Annual salary of 2 million NTD
The Financial Times' international Masters in Management Rankings assess participating business schools and their alumni who graduated three years ago (in 2020) based on several key evaluation criteria. These criteria include alumni career development, international diversity, international experiences, carbon footprint and ESG (Environmental, Social and Governance) considerations. The survey included factors such as salary growth; career progress; value for money; the percentage of female and international faculty, students, and board; international work mobility, and more.
In terms of the career performance of alumni, the average salary of NSYSU IBMBA alumni is US$62,917 three years after graduation, which is 38% higher than the salary at the time of graduation. This is equivalent to an annual salary of NT$2,015,987 three years after graduation, demonstrating an impressive salary growth rate.
In the Career Service Rank, which measures the effectiveness, according to alumni, of the IBMBA program's career services in assisting students in their job search, NSYSU's IBMBA was ranked 35th globally. This marks a significant improvement from last year's 66th place. This outstanding achievement demonstrates that program's ability to effectively assist students in connecting with society and cultivate business executives who align with corporate needs and contribute to their growth.

NSYSU IBMBA graduates are highly sought after by global corporations.
(Graduating Class Group Photo)
The College also ranked highly in terms of diversity of composition. The percentage of female students is 67%, which makes it in the top four in the world. The percentage of international students (including degree students, exchange students, and dual-degree students) accounts for 49%, a nearly one-to-one ratio of international students to domestic students, placing it among the top three in Asia. The percentage of international board accounts for 68%, ranking number two in Asia. The College's IBMBA students have the opportunity to study alongside multinational faculty members and students, and this international environment naturally fosters a sense of openness and inclusivity.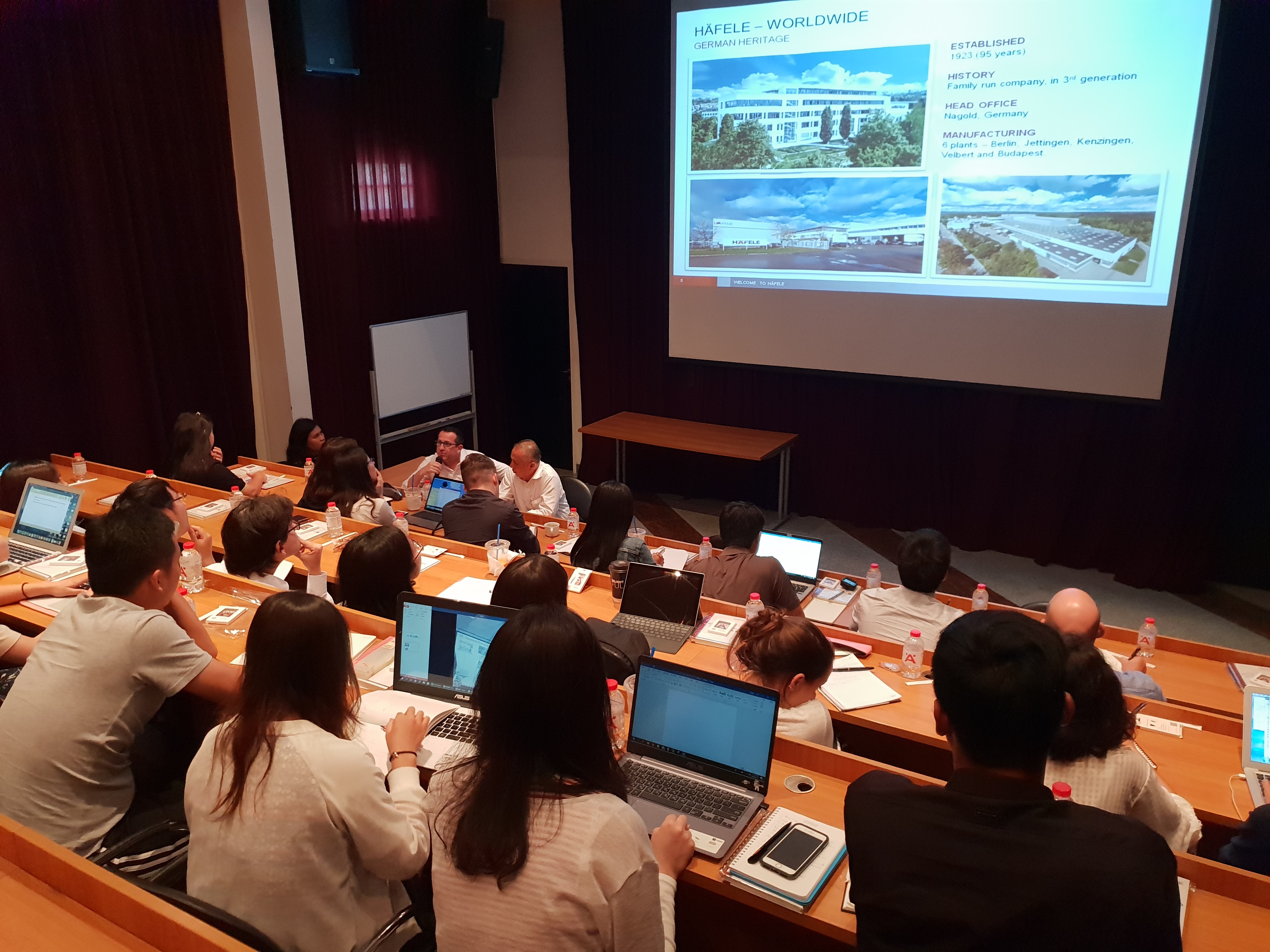 NSYSU's IBMBA is rich in teaching resources.
(Photo from an overseas short-term program visit to Hafele in Thailand)
NSYSU's IBMBA is known for its international learning environment and abundant exchange resources. Thanks to a significant number of alumni with experience in overseas exchange, internships and courses, IBMBA ranks the top program in Asia in the International Course Experience Rank. IBMBA students are also able to fully immerse themselves in a study abroad-like experience within our diverse learning environment on campus.
How do IBMBA alumni make their mark in the world? In the International Work Mobility Rank, which measures the extent to which alumni have changed countries of employment within three years of graduation, NSYSU's IBMBA is ranked third in Asia after the MSc in Management of Singapore Management University: Lee Kong Chian and China's Tsinghua University School of Economics and Management. This high rank indicates that our IBMBA alumni are highly sought after by global corporations for their abilities, and that many outstanding alumni have not only made a mark on the international scene but have also given back to Taiwan's industry and society with their outstanding professional skills.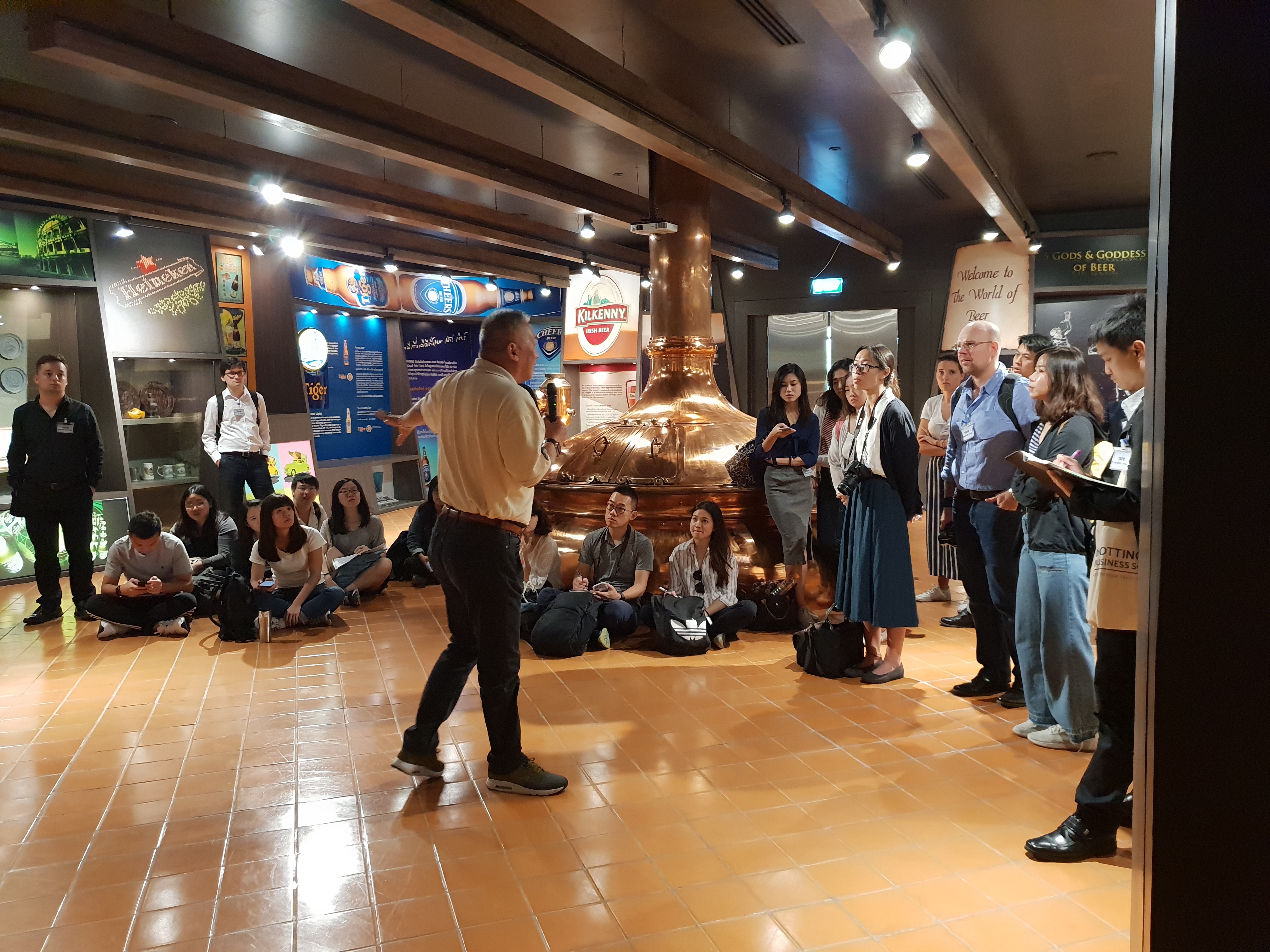 IBMBA students are able to immerse themselves in a "study-abroad-like" experience with its diverse learning environment.
(Photo from an overseas short-term program visit to Heineken in Thailand)
In line with the principles of sustainable development, FT MiM rankings included ESG and carbon footprint considerations in the survey for the first time this year. NSYSU's IBMBA program was ranked number one in Asia in the ESG and Net Zero Teaching Rank, highlighting the program's dedication to environmentally friendly practices, sustainable management, and education. In the Carbon Footprint Rank, the program is ranked fifth in Asia, after the Indian Institute of Management Udaipur (India), XLRI — Xavier School of Management (India), CUHK Business School (Hong Kong) and Singapore Management University: Lee Kong Chian (Singapore).
The top three master programs in the 2023 MiM rankings are HEC Paris (France) in first place, University of St Gallen (Switzerland) in second, and London Business School (UK) in third.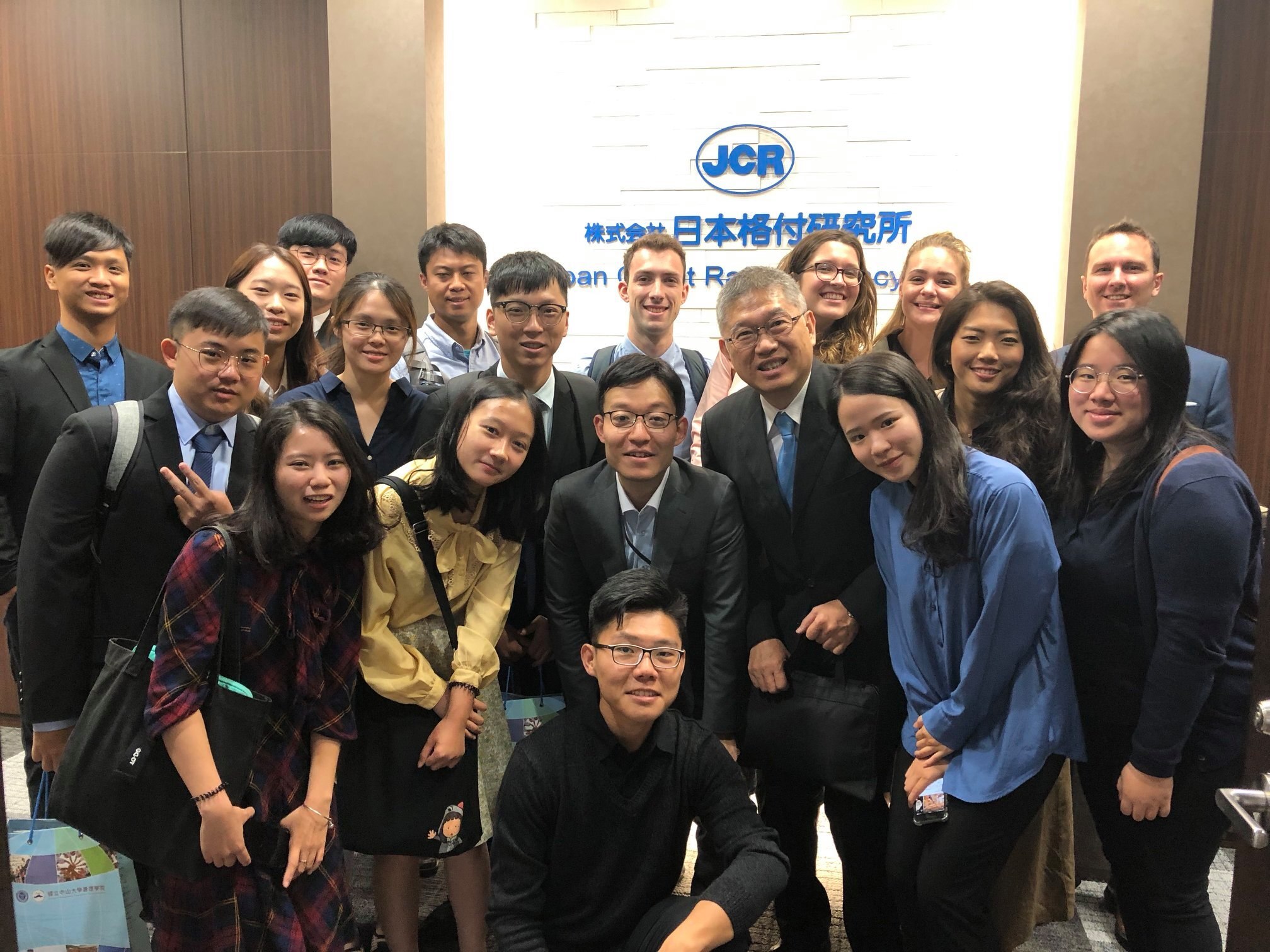 NSYSU's IBMBA is ranked No. 1 in Asia in the ESG and Net Zero Teaching Rank.
(Photo from an overseas short-term program visit to Japan)
● 2023 The official website of the FT MiM Rankings: https://rankings.ft.com/rankings/2948/masters-in-management-2023
●Report by the Financial Times (UK): https://www.ft.com/content/8de53dac-6f55-40b0-8285-ed99d6032c6c
(Written by the College of Management media team)
Click Num:
Add to Favorites
Share